¿Cuáles son las configuraciones del 2019 Honda CR-V?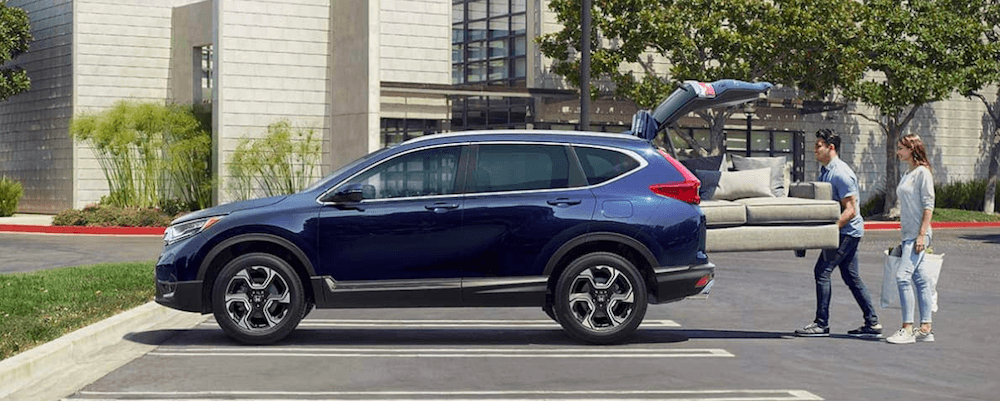 ¿Quiere comprar un SUV compacto que promete rendimiento real y un interior lujoso? Las configuraciones del 2019 Honda CR-V ofrecen algo para cada familia de San Marcos. El Honda CR-V está disponible con dos opciones de motores, una transmisión continuamente variable (CVT), y una capacidad de remolque de 1.500 libras, pero cada modelo trae algo único.
---
---
CR-V LX
El 2019 Honda CR-V LX tiene un precio inicial de $24,350. Como el modelo de nivel de entrada, establece el escenario para el resto de los SUVs nuevos. Las características estándares incluyen:
CVT con un modo de deporte
Un motor de 2,4L con cuatro cilindros
Cámara de visión trasera de múltiples angulos
Asientos traseros de 60/40
Llantas de aleación de 17 pulgadas
AWD disponible en tiempo real con un sistema de control inteligente (disponible en todos los modelos)
CR-V EX
El próximo modelo, el CR-V EX tiene un precio inicial de $27,250. Por el precio, usted obtendrá una mezcla de rendimiento, comodidad, y tecnologías, tales como:
Un motor turboalimentado de 1,5L con cuatro cilindros
El paquete de sistemas de seguridad de Honda Sensing
Pantalla táctil de audio de 7 pulgadas
Integración para su smartphone en la forma de Apple CarPlay y Android Auto
Climatizador automático de dos zonas
Techo corredizo eléctrico de un solo toque con una función de inclinación
CR-V EX-L
Al subir al EX-L, que tiene un precio inicial de $29,750, garantiza un interior cómodo para toda la familia. Puede conducir alrededor de Vista con estilo con lo siguiente:
Interior tapizado en cuero
Asientos ajustables de poder
Asiento del conductor de memoria de dos posiciones
Espejos laterales de poder y de color del cuerpo con señales de giro integrado
HomeLink
Un sistema de navegación por satélite disponible de Honda
CR-V Touring
El Touring es el modelo más bien equipado de todos en la alineación del 2019 Honda CR-V. Con un precio inicial de $32,750, el Touring incluye casi todo lo que familias de Carlsbad podrían desear, tales como:
El sistema de navegación por satélite de Honda como estándar
Faros de LED que se encienden y se apagan automáticamente
Una puerta trasera que ofrece acceso sin manos
Rieles de techo
Acabadoras de escape de cromo doble
Un sistema de audio de 330 vatios y con 9 altavoces
¡Explore los modelos de Honda CR-V en Honda of Escondido!
En cada nivel, las configuraciones del 2019 Honda CR-V impresionan con características generosas en precios razonables. Compare el Honda CR-V con los competidores, y después programe su prueba de manejo en Honda of Escondido en Escondido. No olvide navegar nuestras ofertas nuevas e incentivos para ofertas especiales en SUVs de Honda.